Alright, this is definitely the most annoying part about getting bangs: growing them out.
There's not exactly any trick to it; it just sort of sucks. The easiest way to push them back is with a headband, but who actually wears headbands anymore? Not even Blair Waldorf, I'd venture to guess.
Transitioning into sidebangs is another option – but again, side bangs are a little more 2009 than 2019.
Luckily, we've got a new trend that goes *perfectly* with growing out your bangs….
BARRETTES!!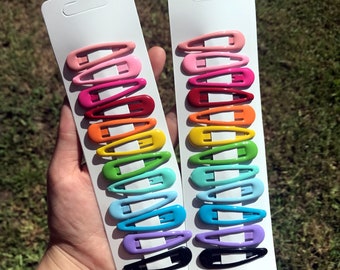 Yes, that's right – like a lot of other late 90s/early 2000s fashion, hair clips/barrettes are making a comeback.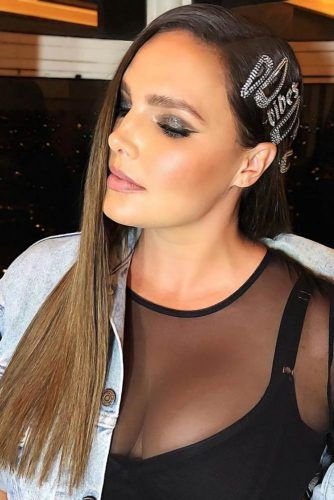 You can choose from any variety of options – from colorful 90s clips (here) to bedazzled statement pieces (lots on etsy!) to plain large bobby pins (here) to tortoiseshell barrettes (here) to pearl-adorned oversized clips (here).
People are wearing them anyways – and they just so happen to be the perfect way to hide bangs!
The two main styles are the center part look seen below:
And the side-part swoop:
For both, style hair as usual, parting your hair to the middle or to the side – then brush your bangs back with the rest of the front of your hair using a fine-tooth comb and a bit of hairspray or gel, and simply apply the clip! If you're doing a middle part, you obviously do this to both sides.
The only style you're really excluded from here is the deep side part where you clip back the side with less hair using a barrette, as seen below: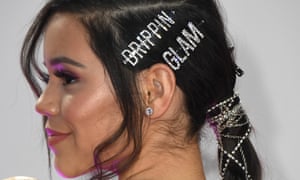 However, this one actually works with bangs if you commit! Stile your bangs to one side, trying your best to blend them into hair – I find this works best on shorter layered hair, and when you curl it.
Then pin back the non-bang side with barrettes, and voila! You haven't exactly hidden your bangs, but you've now managed the final option in the recent barrette style craze.
There are other options, such as braiding or twisting back your bangs, or simply gelling them down into a low pony.
But why bother when one of 2019's biggest trends already has you covered?