When I was in middle school, I wasn't allowed to wear makeup.
But I had a colorful palette from Claire's hidden in my dresser. I took the bus, so moments before I flew out the door with calls of "bye, mom!" I would slide a finger over a lush purple or bright green and swipe it over my eyelids.
It wasn't exactly makeup. The chalky, barely pigmented color barely adhered to my lid, and by the time the day was over, it was done. I knew nothing of crease color or eyeliner or mascara.
But to me, the color was self expression. I constantly wore jewels and rainbows and ribbons – why was colored eyeshadow any different?
Thankfully, my mother allowed me to wear eyeshadow by high school. Unfortunately, I was sucked into the societally acceptable version of makeup, and went with champagnes and browns in a forgettable wave of subtle glitter.
But every time there was a major holiday, I'd step outside of my comfort zone and embrace my creative side. One of my favorites of these was Valentine's Day.
There are plenty of great pink palettes to get you ready for Valentine's Day.
There are really 3 routes to go: peach, bright pink, and reddish tones!
I'll start with peach! There are a ton of great peach palettes. Too Faced actually has a peach line – see palettes here and here. For cheaper options, Colourpop has great options here and here! Kylie Cosmetics has a good option here, but those peach options are more orange/brown than pink.
There's actually a great tutorial using the Too Faced palette here (and here). But no matter what palette you use, you're going to want to use the most pink, probably 2nd lightest, color in the palette. For the Too Faced one, Georgia or Bellini is a good option! For the inner eye and browbone highlight, you'll go with the lightest shimmer color – for the Too Faced palette, that's Nectar. As you blend out the lid to the outer corner of your eye, you'll lean darker and more orange, blending out to the crease. Finally, you'll choose a dark brown to go over the crease/outer corner, not covering as much area as you did with the orange color.
My favorite is going with a bright pink. I've actually used lipstick for this before – careful if you have sensitive eyes, but in a bind lipstick has amazing shades of pink, and you probably already have it lying around.
And when I say pink, I mean PINK.
There's a great tutorial here (picture above). But basically all you'll need for this is 2 bright pinks, one slightly darker than the other. Combine two of these (1, 2, 3, 4) or get a colorful palette or pink palette. If you want to make it even more fun, grab a pink glitter pigment (here) and a shimmery gold or white pigment (here) for the inner crease. If you want the look above, I'd go with a white eyeliner in the inner eye. Black winged liner also works great with this look!
Next is a red/rosy look! Some good palettes are here, here, and here! You could also just use a single color or cream like here. Red may seem an odd/creepy option for eyeshadow, but it's fun for Valentine's day!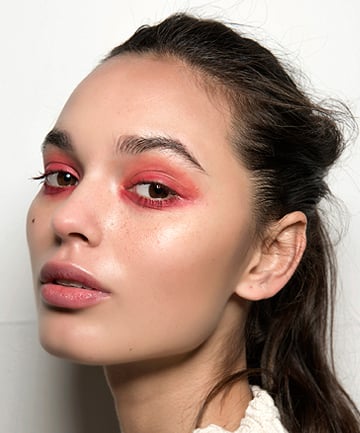 The easiest way is just a red-brown look all over the lids, crease, and bottom lashes, like above! But there's a good tutorial here if you want to go all out!
Hey, if you don't have love, at least you can have awesome eyeshadow!!